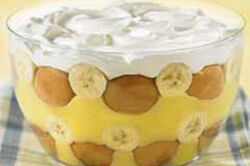 Ingredients
Edit
Directions
Edit
Combine ½ cup of sugar, flour, and salt in top of double boiler and mix well; stir in one whole egg, three egg yolks, and milk and mix well.
Place over boiling water stirring constantly until thickened like pudding.
Remove from heat and add vanilla.
Spread some pudding on bottom of 2 qt casserole dish. Spread layer of wafers, then layer of banana slices. Repeat for 3 layers.
Use remaining 3 egg whites, ¼ cup of sugar and cream of tartar to make meringue. Spread over pudding.
Bake at 350 degrees for 12 to 15 minutes until golden brown.