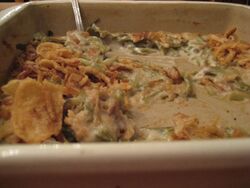 Description
Green bean casserole was invented in 1955 by the Campbell Soup Company. It has since become a Thanksgiving favorite in the United States.
There are many basic recipes for green bean casserole. Here is one example:
(Wikibooks, original source of recipe, licensed under the GNU Free Documentation License.)
Ingredients
Topping
Directions
In a lightly buttered 1½-quart casserole, combine green beans, onions, diced pimento, and mushroom soup.
Combine topping ingredients; sprinkle over the top of the casserole.
Bake, uncovered, at 350°F (175°C) for 25 to 30 minutes.
Tips