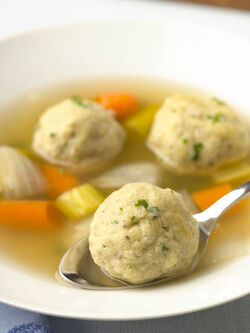 Matzah (Matzo) Balls
Edit
Chop seasonings very fine, then fry in oil.
When clear, add cup of boiling water; then cool a few minutes.
Add matzo meal, well beaten egg yolks, then fold in stiffly beaten egg whites.
Form into small balls and drop into boiling chicken soup or you can drop them into boiling salted water.
Cover pot and simmer for approximately 30 minutes or until puffed up and done.
In a large stock pot, cover hen with water, add above ingredients and boil until very tender.
Allow chicken to cool in the liquid, then remove chicken and reserve for some other future use.
Strain remaining broth and discard the cooked vegetables.
Add salt and pepper to taste.
Add cooked matzo balls and thoroughly heat them or drop uncooked matzo balls into broth following directions on the matzo ball recipe.